Luxury waterfront homes are in a class of their own when it comes to design, aesthetics, and function. So whether you are looking to build a custom home, incorporate a new addition, or remodel an existing property to better suit your tastes, you want to be intentional to protect and enhance your investment.
Location: The Difference Maker
For spectacular vistas and a good return on investment, it's no wonder homeowners are clamoring to find exclusive Lighthouse Point property, Pompano Beach real estate, and East Fort Lauderdale real estate. Obviously, waterfront properties like these should be designed to maximize the enjoyment of their beautiful beachside or canalside location. Home design should be very intentional in order to maximize those gorgeous views.
Windows: On A Clear Day, You Can See Forever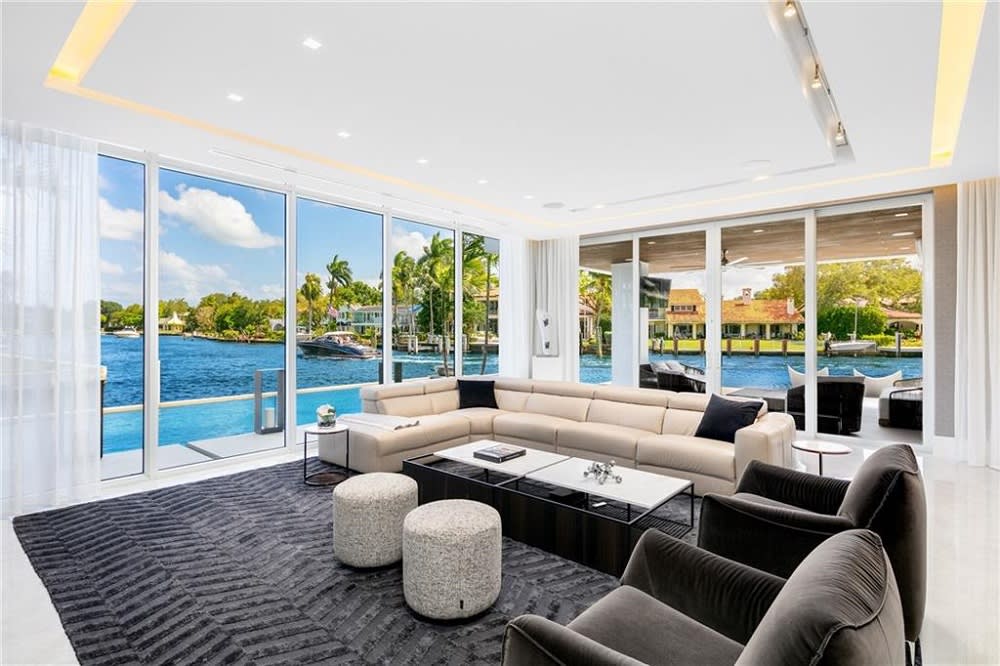 When you are planning new construction or remodeling, talk with your architect and builder about the correct placement of windows to maximize water views. Consider multi-story walls of glass for a dramatic and unimpeded view. Or, for function and style, large sliding doors invite in the sun while allowing a seamless transition between indoor and outdoor spaces. And while you want to maximize waterfront views, keep in mind privacy and sunlight exposure as well, especially when looking at Lighthouse Point property, East Fort Lauderdale real estate, or Pompano Beach real estate. The Florida sunshine can be very intense, but there are a lot of great options that provide privacy and shade when desired,
For complete control over sun exposure,
smart shades and blinds
that retract or extend automatically are a natural fit for waterfront homes with expansive floor-to-ceiling windows. These window coverings can be adjusted at the touch of a button, and new smart home compatible models can be programmed based on individual tastes or seasons. Some smart blind models even adjust themselves depending on the sun's position throughout the day. There is a wide range of custom, programmable smart window coverings available that can give you unimpeded waterfront views as well as privacy and comfort.
Floor Plan: Keep It Open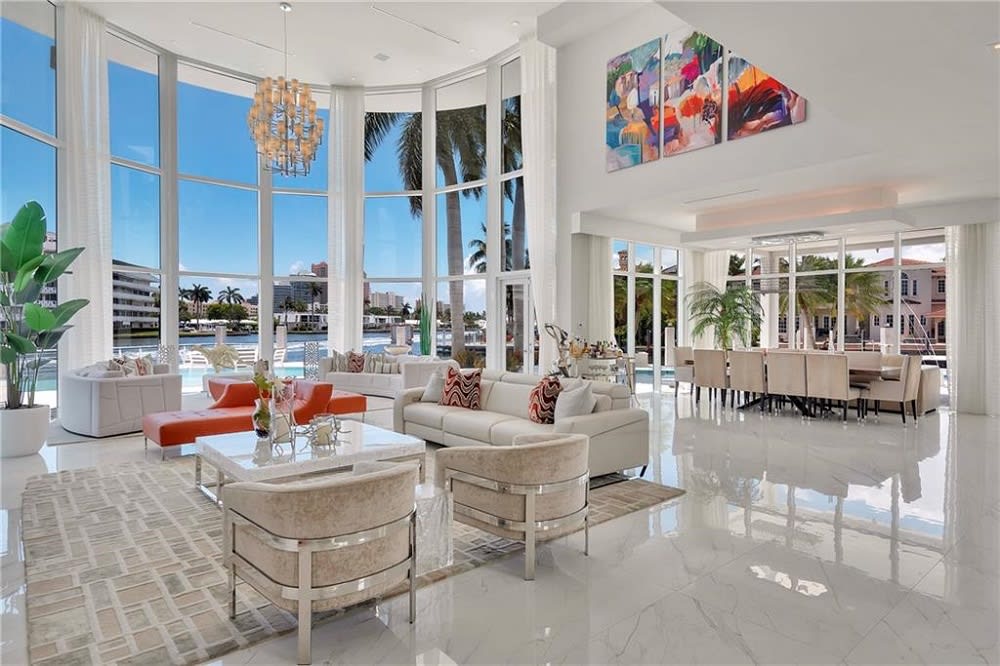 When you want to maximize waterfront views, it just makes sense to have an open floor plan. After all, walls would block the view. Open concept living can be expanded beyond main floor spaces into master suites or basement walkouts. In fact, every indoor space should be designed to take advantage of peaceful waterfront vistas. If you have an existing home that doesn't have an open floor concept, you can work with an architect to create thoughtfully-designed spaces that emphasize your home's best feature: the view.
Function: Define Your Lifestyle
Arguably the most important influence on your home's design is your personal taste and expectations. What is your lifestyle like? What features in a home align with this lifestyle? This is the first step when you are designing new construction or remodeling an existing home. Take a serious inventory of what you want out of your dream home. Here are some broad categories to think about:
Entertaining: If you live near the water, you may naturally find yourself welcoming guests and family into your home to enjoy the good life. If you intend to do a lot of entertaining, you'll want an open-floor-plan waterfront home with a large custom kitchen, ample counter space, and indoor-outdoor options for dining al fresco. Open floor plans are wonderful for providing space for guests to mingle. If you plan to host overnight guests, make sure your home's design has adequate guest rooms and baths or even a private apartment with a separate entrance.

Family: If you are raising a family, you may want to choose a design that facilitates family time, like game rooms, home theaters, or playrooms. Depending on the age of your children, you'll want bedrooms either close to the master suite (for younger children) or far from the master suite (for teenagers). For families, waterfront living gives the added bonus of having a beach or boating options so expect your children's friends to want to hang out at your home, too!
Retired or empty nesters: Designing a home for a retired or empty nest couple should keep future needs in focus. You will need ample spaces to relax and enjoy your waterfront home, as well as access to outdoor recreation like golfing, boating, swimming, and tennis. Many waterfront homes have their own recreation facilities. Do you want the living space all on one level as you consider aging in place? Should you have guest rooms for grandchildren or other houseguests?
Outdoor Spaces: Luxury Living Inside And Out
Whether you want to enjoy a quiet cup of coffee on your deck or sip drinks with friends on a poolside patio, waterfront homes naturally blend outside and indoor living. Creating comfortable, luxurious, and functional spaces enhance a home's livability and value. Luxury outdoor living spaces like these can elevate your home's form and function.
Build a gourmet outdoor kitchen any chef would covet. Include a wood-fired pizza oven or communal outdoor grill to enhance the experience for cooks and guests alike.

Incorporate style and shade with a pergola or covered seating nooks so you and your guests can get a respite from the elements.

Install a reflecting pool, fountains, or other water elements for some sparkle and splash in your outdoor space.

Add a terraced stone patio to create multiple levels to entertain and relax.

Build multi-leveled decks, so every floor of your home has access to fresh air and stunning views.

Add comfortable seating and dining areas to beckon guests to relax and stay awhile.
Additional Spaces: Boathouses And Docks
If you are lucky enough to have water access, why not make the most of an existing boathouse or dock? With a little clever design, these access points can double as entertaining or storage spaces. If your local rules allow, you can convert a dock or boathouse into a floating deck, complete with storage bins, an outdoor bar, built-in seating, and other details that increase your home's usable spaces while maximizing waterfront views. Lighting also adds a functional and stylish touch to enhance both aesthetic and safety features.
Consult An Expert
When you are ready to design or find a home on East Fort Lauderdale real estate, Pompano Beach real estate, or Lighthouse Point property, Tristan Payne can help you find the waterfront property of your dreams.